To You in Europe, συνεχίζει για 6η χρονιά την επιτυχημένη συνεργασία του με τον Πορτογαλικό Οργανισμό Casa de Juventude D' Amarante και ανακοινώνει 1 θέση εθελοντισμού από 03/06/19 έως τις 02/06/2020,  στο πανέμορφο Αμαράντε της Πορτογαλίας!
To πρόγραμμα απευθύνεται σε νέους 18-30 ετών, επιδοτείται από το Erasmus+ και καλύπτει 100% διαμονή και διατροφή, τα έξοδα ταξιδίου έναρξης και λήξης, ενώ δίνεται και ένα μικρό ποσό για τα προσωπικά έξοδα του εθελοντή.
Ακολουθούν όλες οι πληροφορίες στα Αγγλικά!
Objectives:
The partnership JUVENTUDE SOCIAL intends to increase AMC's capacity to answer to its own activity/strategy and community and local social network needs, being an active organization within a society that should be more solidary and responsible. The project ́s main themes are Inclusion (as example: youth with fewer opportunities, disability), Social assistance and Welfare (as example: orphans, elderly and Intergenerational activities) and Youthwork (as example: youth participation, youth policy but also mobility, opportunities, healthy lifestyles, local events, cultural agenda, project management, free time activities). JUVENTUDE SOCIAL main objectives are:
– Assure a regular volunteer's corps that allows to answer to the local community needs, mainly those coming from the social network, with special focus on social inclusion, participation, human rights and healthy lifestyles (main mission and practice of AMC);
– Develop and improve volunteer's personal, social and professional competences in different areas (as example: community's support, youth, organization of events, inclusion, interpersonal communication, foreign languages) and taking advantage from their Non-Formal Education
experiences that might be useful when facing the labour market;
– Open new horizons for local youngsters through the example and direct contact with European volunteers, in terms of mobility and participation in youth opportunities (mainly promoting ESC and Erasmus+);
– Promote intercultural dialogue between youngsters from different countries and support the sharing of their knowledge, world vision, culture and way of life, reinforcing the European project and its values (cohesion, solidarity, democracy and citizenship);
– Stimulate reflection towards Sustainable Development issues, Fair Trade, healthy food and local and organic farming.
JUVENTUDE SOCIAL is a volunteering partnership consisting in 3 individual volunteering projects, promoted by AMC, each project involving 6
European volunteers coming from 6 supporting partners from EU Program Countries (Romania, Greece, Italy, Germany, Poland and Spain) during 1 year (12 months) each. The venue will be Amarante (Portugal).
Activities:
At AMC/Casa da Juventude de Amarante (local Youth Centre):
– LANGUAGE COURSE: cultural and linguistic workshop held under the SPEAK social project that AMC is one of the local partners involved;
– CULTURAL AGENDA: Planning, organizing and promoting da CJ's cultural agenda (foreign language courses, music dance, theatre, photo);
– MEDIA: Support to CJ's media office (produce information & dissemination outputs, managing websites and social networks from AMC and CJ);
– PROJECTS: Preparing and implementing local and international projects (energizers, workshops about CES, Erasmus+ and Youthpass,
intercultural nights, Human Rights Education, team work);
– VISIBILITY: Support to awareness and info sessions at schools nearby Amarante (about CES, Erasmus+ and cultural diversity);
– SUSTAINABILITY: Support to organic farmers nearby Amarante, awareness sessions at schools and local, organic and fair market management.
At the local social network:
– SOCIAL AND CULTURAL SUPPORT TO CMA: Support to strategic ongoing projects as RUA, ÔLO and Youth Action Plan, Support to the local dog
kennel and to social and cultural events of the city/region;
– SOCIAL SUPPORT TO CERCIMARANTE: Support to musical, drama and arts workshops using NFE, Support to body exercises (physiotherapy, gymnastic), to gardening, sewing and basic linguistic competences;
– SOCIAL AND CULTURAL SUPPORT TO UFA: Support to free time activities, at daily centers for seniors, at primary schools, development of
intergenerational events involving the local Seniors University and support to social work involving local youngsters with fewer opportunities;
– SOCIAL SUPPORT TO TERRA DOS HOMENS: Support to daily tasks at orphanage and development of free time and cultural activities (through
games, movies, presentations, dances or theatre) and outdoor activities (sports, walks);
– SOCIAL SUPPORT TO SCMA: Support to daily tasks at elderly centre and development of healthy aging and outdoor activities for the elderly
people (gymnastic, traditional games, visits, walks, food, talking during food breaks).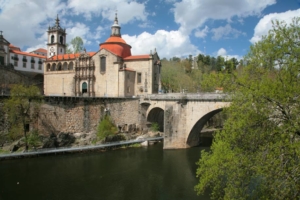 Accomodation:
Volunteers will stay in rented apartments in Amarante's city centre. They will stay usually in double rooms (with other volunteers) and exceptionally some in single rooms.
Financial issues:
We will give 150€/month for pocket-money and offer food (breakfast, lunch and dinner) from Monday till Saturday to the volunteers. At Sundays volunteers will receive 35€/month in cash to cover their own food costs in those days. We will offer 2 days/month for holidays + 6 days (in total 30 days of holidays). We will allow volunteers to manage maximum 15 days of free accommodation for their family and friends.
Κάνε την αίτηση σου ως εξής:
Στείλε το βιογραφικό σου, και ένα motivation letter όπου θα εξηγείς του λόγους για τους οποίους θέλεις να πάρεις μέρος στη συγκεκριμένη ανταλλαγή, στο youineurope.evs@gmail.com, μέχρι τις 19 Μαρτίου 2019.
Και τα 2 έγγραφα πρέπει να είναι επισυναπτόμενα σε μορφή .doc ή pdf.
Όλες οι αιτήσεις θα αποσταλούν στον οργανισμό της Πορτογαλίας, ο οποίος και είναι υπεύθυνος για την τελική επιλογή.
Για οποιαδήποτε απορία μη διστάσεις να επικοινωνήσεις μαζί μας στο ίδιο email.