Volunteering in Greece, in the beautiful city of Nea Moudania, at You in Europe NGO? How could it be? Difficult to describe it with words… but the pictures say it all!
Our four EVS volunteers, Igor from Poland, Rita from Portugal, Anita from Italy and Klaudia from Spain, have chosen to do their EVS with us, and since they arrived they never stopped impressing us!
With passion and drive to offer and learn, amazing creative ideas and great teamwork spirit, they have implemented unique projects in collaboration with local social organisations, giving the best of them every day!
Here are some of their projects:
They transformed the dull and «ugly» wall in the frontspace of the public evening school for children to a beautiful masterpiece, giving colour and joy to the place!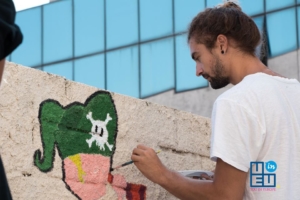 In order to promote the EVS idea, they created events where they informed the youngsters of our city for the opportunities that Erasmus+ offer! Here are moments during the event they created to inform the young athletes of the local volleyball team.
In collaboration with the local public evening school for children, they offer creative workshops proposing always something new, like the recent «Talent Show» for kids that enjoyed both the stuff and the students!
Our volunteers offer their time and ideas to the local school for people with disabilities, supporting and helping in many ways. Here are moments from the «3rd Festival for Diversity», that the school organised with the support of the Municipality and You in Europe and the participation of local schools. Our volunteers created games of simulation, where people could come closer to the disability and understand better the difficulties that handicap people face in an everyday basis.
Celebrating the World day for Childrens Rights our volunteerins painted a huge wall in the 4th Elementary School of Nea Moudania, creating an amazing piece of art with great colours and images, that stands out!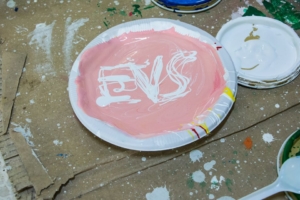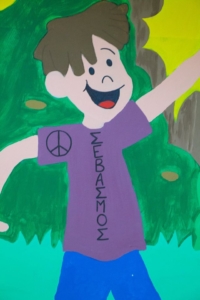 Our volunteers have their own radio show on You in Europe's web radio, though the KA2 Erasmus+ program Broadcasting Europe!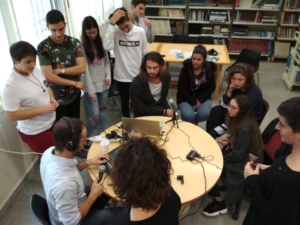 They participated to the Christmas Bazaar of «Drasi gia to kati allo», an NGO dedicated to the support of disabled people. There they created group games and activities for the children that were visiting the bazaar.
And their actions do not stop there: they help to the trainings of the children's volleyball team, they cover all our events with video and photos, they support all the activities that we implement and through EVS Igor has the opportunity to make one of his dreams come true: he will compose music for theatre, for the kids performance of Faros Cultural Club.
When your days are full in such a productive and creative way, the EVS experience becomes unforgettable! In You in Europe NGO, we are so proud to host and work with so great volunteers! We are sure they are going to create an amazing future for them! 🙂